When talking about the gastronomic culture of Vietnam, we mostly discuss food. However, the beverage part is also very important and fruitful to discover. Along with tea, coffee is very popular in Vietnam and has become a common beverage in the country since the 90s. In this blog, we will discover more about the start of Hanoi's café culture – the origin of this unique culture in Vietnam with a guideline for the ones who are interested in experiencing it for the first time.
HANOI'S CAFÉ CULTURE: THE BEGINNING
From the early year in the 1900s, Hanoi was under the French colony system. Hence, to imitate the lifestyle of their homeland, French people at that time decided to bring their traditions to the colonial land, and one of those things was the café. At that time café was an elite location that solely served French officers and a small number of the staff working under the French bureaucracy.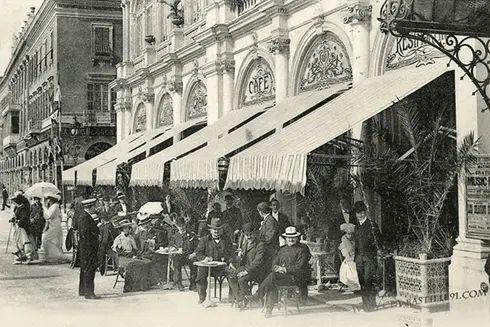 Basically, the architecture, style of service, the menu list all replicated from a typical café that you could find in France or specifically in Paris at that time. In fact, the main menu at that time included black coffee and a latte (which was named "brown" or "milk coffee" by Vietnamese people at the time).
The first café in Hanoi – Café de Beira – had its first opening in the late 1880s by a French woman with the location on Tho Kham Street (now this street turns into Trang Tien Street and Hang Khay Streets). After that, many other cafés started to establish, such as Café du Commerce, Café de Paris, Café Albin, Café de la Place, Café Block, etc.
VIETNAMESE IDENTITY IN HANOI'S CAFÉ CULTURE
There are some significant milestones and highlights when we look at the Vietnamese identity in the unique Hanoi café culture. First of all, the very first coffee shop in Hanoi was the café vendor of Mr. Lam who was the founder of the famous Lam Café since 1952 (you can find this café at 60 Nguyen Huu Huan Street, Hanoi).
At that time, coffee in Hanoi remained in two typical brewing styles: black coffee (served with a small portion of butter to enhance the creamy flavor and complement the original bitterness of coffee) and milk coffee. Also, the first appearance of a café shop located near the breakfast restaurants or vendors in Hanoi, the breakfast coffee culture was born like that and has continued until now.
Another point is a genius invention and has become a signature for Hanoi's café culture nationally and internationally. Yes, it is egg coffee. As a former bartender at Metropole (now Sofitel Legend Metropole) hotel, Mr. Giang invented egg coffee because, at that time, milk was a "luxurious" good. Hence, the egg was the substitution for milk due to the cream texture after mixing this ingredient. Surprisingly, egg coffee was so famous and turned out to be the favorite of the majors, even surpassing the popularity of the original milk coffee. Nowadays, it is a must-try beverage for all tourists once coming to Hanoi.
WHAT TO EXPECT FROM HANOI'S CAFÉ CULTURE AT THIS MOMENT?
The extreme seasons like summer or winter, coffee can be the beverage to moderate your body temperature to relax with the outside weather conditions. However, personally, I think the better seasons to enjoy fully all the senses of Hanoi's café culture are spring and autumn. It is because when the weather is in its moderating mode, you can enjoy your drink, seat freely in or outside of the café, immerse in the nice weather, and watch the city's life going.
It is approximately 70 years from the first appearance of the Vietnamese café in Hanoi, and there are many changes in all the perspectives of Hanoi's café culture. Café now is not only about drinking coffee. The menu is more diverse, and so on for the purposes.
However, as always, the unique vibe and the one-and-only atmosphere of the cafés in Hanoi make them so unique, even the famous international coffee shop chains like Starbucks or Dunkin Donut hardly compete to win the market here.
Suggestions
For the ones who would like to try the famous Vietnamese traditional brewing method of coffee and some other traditional beverages, we recommended:
And that is not the end. Of course, we understand we are so diverse with different preferences. Then, for those who love to see Vietnamese identity but prefer to have a more innovative menu and creative space, here are the places for you:
Xofa Café: 14 Tong Duy Tan Street, Hoan Kiem district, Hanoi
Ban Cong Café: 2 Dinh Liet Street, Hoan Kiem district, Hanoi
Cong Café Chain (suggested address: 116 Cau Go Street, Hoan Kiem district, Hanoi)
GOOD NEWS!
For both coffee and non-coffee lovers, café culture is a must-try experience when you are in Hanoi. Do not forget to let us know your feeling, expression, and wishes by connecting with us via our social media platforms below. Also, let us know your preferences through Build Your Own Trip or check out our Hanoi Food Tour with the experience of Hanoi's café culture inside for travel inspiration.
We are always here to welcome you to our beautiful Vietnam, and this is Thanh Duong, a travel and foodie expert. Coming soon for the "tastier" and wanderlust blogs.